Introducing Jess Johnston
Jess Johnston is an energetic young mum who lives with her daughter Katelyn and dogs Roam and Ghost. She grew up in a family of bus, truck and machine drivers, so it's no surprise that Jess developed a love of driving and found her happy place operating machinery at Tauhei Quarry.
Jess's career in quarrying began in the rural town of Taihape, "I got into the industry quite easily, I started with a temporary admin role at Byfords and then they offered me a permanent full-time position organising parts and maintenance for their machinery. I took that job because I wanted to get on the machines."
After a year and a half of working in the admin role, Jess sadly lost her best friend. "I went through a bad phase, and my head wasn't in the right space for admin so my manager gave me a chance on the machines," says Jess.
Jess remembers being a little bit nervous when she was first put on a dump truck. "I'm only 5.2 and the tyres are taller than I am," says Jess. After enjoying her first-day driving, Jess decided right there and then that driving machines was what she wanted to do, and that most importantly she would be happy doing it.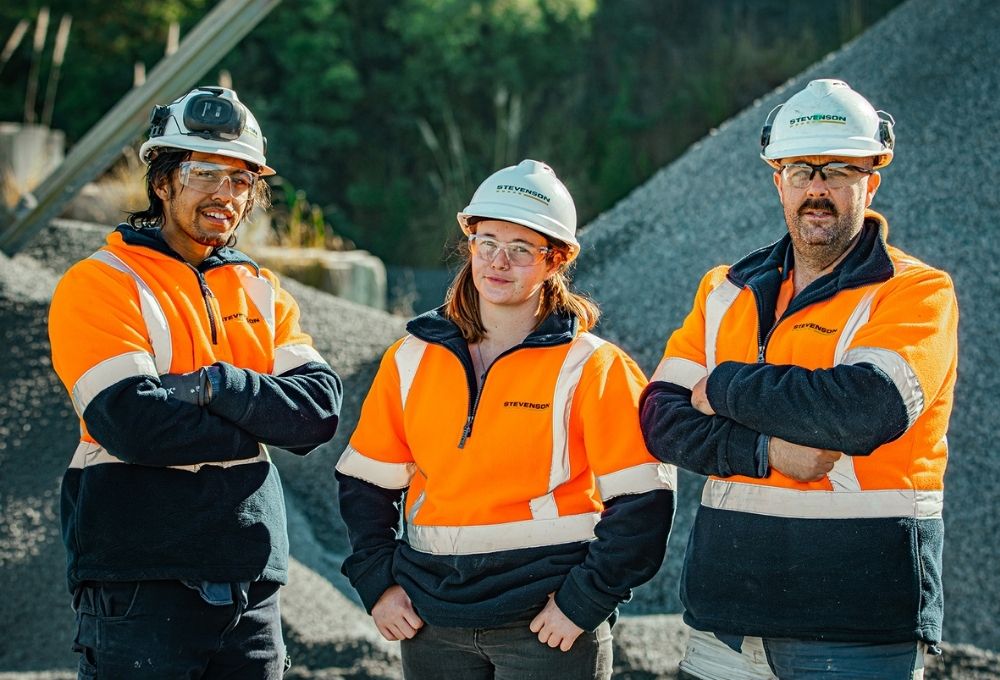 "The best thing about the industry is that you meet a lot of really great people. I've worked in a lot of jobs, but I've never come across such a good group of people as I have in the quarrying industry"

Jess Johnston, Tauhei quarry operator
During her time at Byfords Jess spent 12 hours a day either driving a loader or a dump truck or doing civil works. Through hard work, Jess has gained valuable experience by working in a variety of environments such as rivers, forests and farms, where she learnt to tackle difficult challenges. After around 3 years at Byfords, a then-pregnant Jess sustained a back injury at work and had to leave her job, so she returned to Kawerau to be with her parents.
In May this year, Jess got herself an interview with Stevenson after looking for work in Waikato for 9 months. "I didn't think they'd want me since I'm a solo mum. I wasn't even going to apply – I did it for a joke really," says Jess. But a week later she got the call from Stevenson and started work at Tauhei Quarry shortly after. Jess started on the fixed plant but eventually was put on a Komatsu WA500 loader, a machine whose tyres are about 4 or 5 inches taller than Jess.
Jess's day starts by dropping her daughter Katelyn off at daycare at 7.15 am. She then meets with Tauhei's quarry manager to discuss the workload and expectations for the day. Jess's job involves taking away from the belts and loading trucks. After her meeting, Jess does a pre-start on the machines and heads out into the yard to see if any of the material needs to be moved away from the belts on the crushers and to see if any help is needed loading the trucks. Jess is an enthusiastic and motivated employee, she comments, "I'd love to get experience on other machinery, I'd love to drive the digger. Sometime soon I'd really like to do my B grade certificate with support from Stevenson."
A young mum and working over 40 hours a week, Jess has this advice for any young person considering a career in quarrying. "The hours are long and sometimes it's days with a shovel in your hand when the machines break down, so make sure you're aware that it's not just sitting in a machine all day."
Jess concludes, "The best thing about the industry is that you meet a lot of really great people. I've worked in a lot of jobs, but I've never come across such a good group of people as I have in the quarrying industry."