Kaiārahi Ō Akengokengo – Inspiring Māori leadership
Lavinia Backhouse-Smith is passionate and driven and is the Transport Manager for Stevenson Concrete. She recently completed the Māori leadership programme, Kaiārahi Ō Akengokengo, and is living out the knowledge she has gained from the course not only at work but at home too.
Fulton Hogan designed the Māori leadership programme specifically for Māori leaders to grow within the Fulton Hogan whānau. The course had a limit on numbers, and each applicant had to go through a criteria and selection process. There were 6 modules that were completed over 6 months, with an interruption from Covid-19 in August 2021.
"The support from Stevenson, especially our Concrete General Manager, Anthony Bitossi has been amazing. I was able to attend each and every module the course offered, and he would check in with me to see how it was going. Anthony is always keen to hear new ideas and try new things, he is not afraid of change."

Lavinia Backhouse-Smith, Stevenson Concrete Transport Manager
Some highlights from the course were an overnight stay at a marae, the use of te reo throughout the course, and guest speaker Scotty Morrison, Māori current affairs television presenter.
During the course, the attendees were put into groups of 6 and were given a project to complete. Lavinia's group focused on Māori recruitment to encourage young Māori to join the Fulton Hogan team. The group's strategy was to contact a Māori liaison officer who could meet directly with iwi. And they would also talk to regional managers to find out where staff were needed and what jobs were available.
The group then got creative and designed posters to be delivered to iwi. Fulton Hogan leaders, supervisors, and front line staff all contributed by making videos about their pepeha, where they have come from, and their personal career journey to inspire Māori youth and show them they have options working at Fulton Hogan. The project was recently presented along with their business plan to some of the Fulton Hogan leaders with the hope that the recruitment project will come to fruition.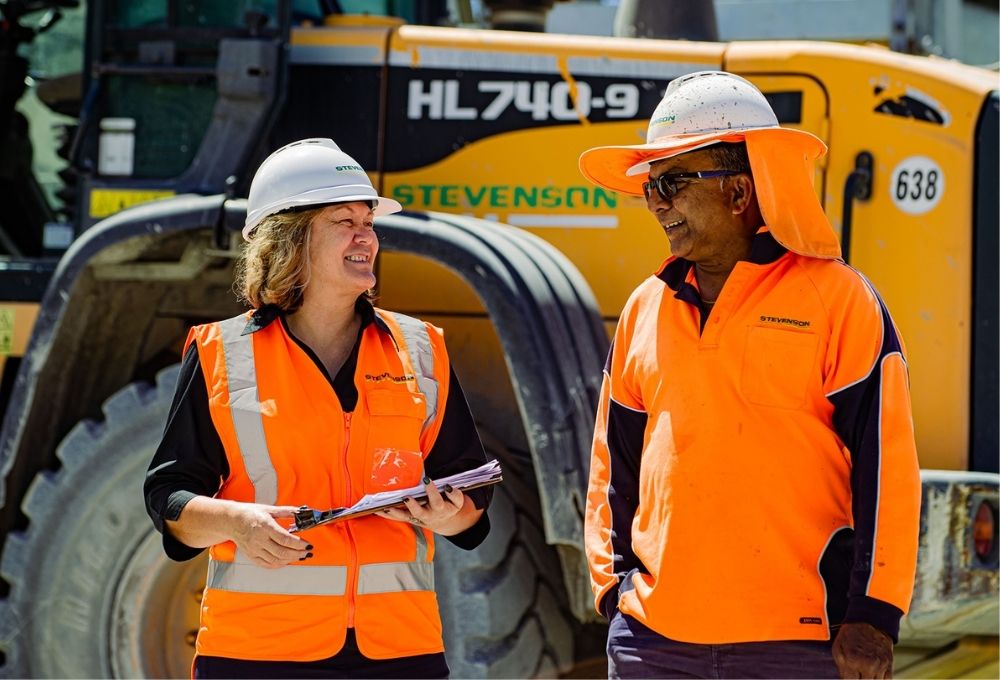 The role of Transport Manager is no small undertaking. 61 concrete truck drivers from across 5 Auckland plants report to Lavinia. So great communication is key in creating a positive environment where everyone feels heard. "I learnt a new word on the course, 'paradigm'. It taught me that we have an automatic perception of people and that we aren't always aware of the unseen things happening in their lives," says Lavinia. She adds, "I've learnt not to take everything at face value and the importance of really listening, asking staff how they really are."
Lavinia thinks it is important to have an open-door policy where she can relate to staff on a personal level, not just in a managerial role. "I have learnt to be more empathetic and that looking after my staff is just as important as productivity," says Lavinia. She goes on to say, "The course taught me the art of compromise, there doesn't have to be a winner and a loser, we can both win if we communicate well and engage with each other."
Because of the pandemic, Covid-19 friendly communication has had to come into play as the weekly toolbox meetings can't go ahead. Text messaging seems to be the preferred way of communication, but Lavinia encourages her staff to reach out through other digital platforms such as email, phone calls, and even the tablets in the trucks.
Lavinia says that all Māori staff members would benefit from the leadership programme. "You get a different insight into learning and a different way of thinking that you wouldn't learn on a standard leadership or communication course. Māori are social, relaxed, and like to laugh a lot. This programme offers a sense of belonging and cultivates life-long friendships within the Fulton Hogan whānau."
Lavinia is an advocate for using te reo in everyday business. She appreciates that Fulton Hogan has highlighted the importance of supporting Māori to grow and learn within the business. Lavinia adds "The support from Stevenson, especially our Concrete General Manager, Anthony Bitossi has been amazing. I was able to attend each and every module the course offered, and he would check in with me to see how it was going. Anthony is always keen to hear new ideas and try new things, he is not afraid of change."