Cheri Sam, Machine Specialist
Cheri Sam is an experienced machine specialist and Stevenson brand champ at Clevedon quarry. Her can-do attitude and willingness to learn makes Cheri a valuable asset to the small team out at Clevedon.
For almost three years Cheri worked in the contracting division for Fulton Hogan where the majority of her work was drainage jobs before taking the position at Stevenson two years ago. "I was ready to get out of the mud and off the ground," says Cheri.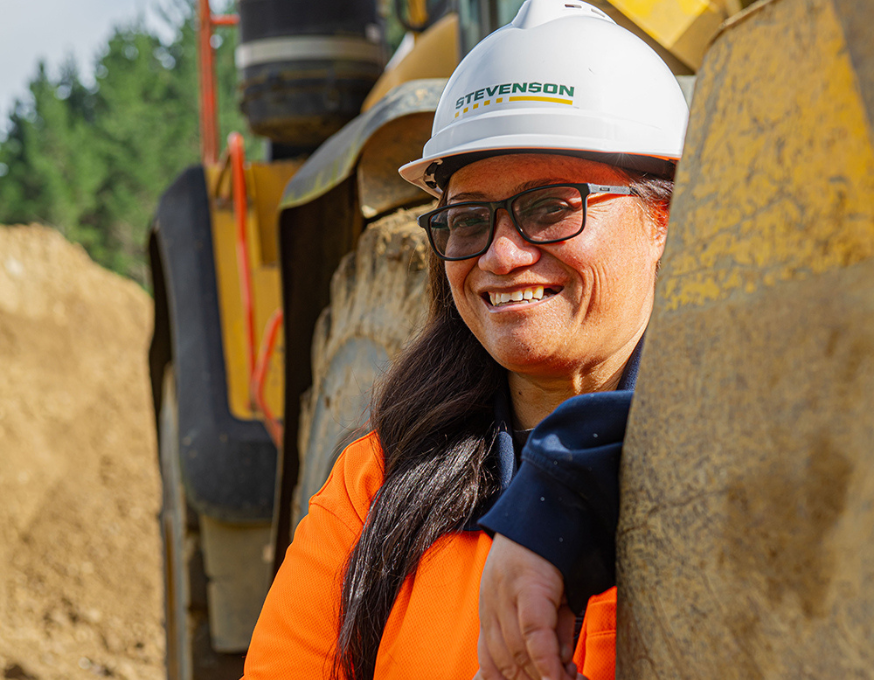 Each day is a similar routine at the quarry. After a short commute to work Cheri arrives at 6 am for a cup of tea before she jumps on the loader at 6.30 am to begin loading for Clevedon's main customer Fulton Hogan Puketutu Island. The trucks don't arrive until around 6.35 am and they can't leave the site until after 7 am.
Clevedon is a busy quarry with the bulk of the work being stripping and turning the clay into saleable products. The small team is made up of Supervisor Roel Van Es, four sub-contractors and Hayley on the weighbridge. Cheri says, "The most challenging thing about the job can be the weather. If there is heavy rain, I help out at the weighbridge or fill in at Drury quarry. We do get a bit of annual flooding out at Clevedon which can close the road."
Cheri's strong work ethic and drive to succeed have seen her achieve her Class 2 Licence and Wheels, Tracks and Rollers certification. "I started out at the Greenmount landfill on the ground and I noticed the jobs people didn't want to do, so I learnt how to do them," says Cheri.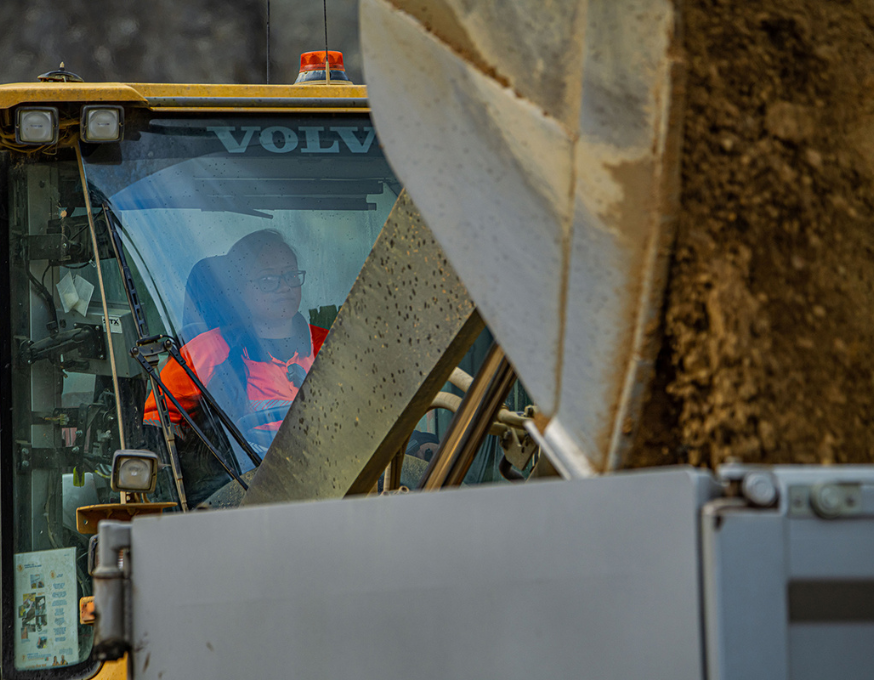 "I learnt heaps of skills from my days at Greenmount, like how to operate a weed eater tractor, the water cart, a small L120 loader, a dump truck and the weighbridge," adds Cheri. She moved from the Greenmount landfill and took a job at the Whitford landfill where she started out as a spotter on the ground and later progressed to a machine operator.
At Clevedon quarry Cheri's vehicle of choice is the Volvo 180, "It's easy to clean," laughs Cheri, but she can also help out when a driver is needed for the dumper or the bulldozer as she is so versatile. As one of Stevenson's brand champs Cheri is also working on replacing all of the old signage with the Stevenson brand for consistency around the quarry.
Cheri spends five and a half days working at the quarry and when the weekend rolls around she loves to spend time with her family and her granddaughter. "I like to go roaming around with my granddaughter, sometimes we go shopping or I will take her to visit her great-grandparents. I also like to go fishing, especially on charter boats," says Cheri.
Learn everything you can, ask lots of questions, watch and listen. You don't need a degree or qualification to get started, you just need initiative and awareness.

Cheri Sam, Machine Specialist
Cheri wants to encourage more women to give machine operating a go. She says, "You'll either like it or you won't. If you do like it, stick with it. Learn everything you can, ask lots of questions, watch and listen. You don't need a degree or qualification to get started, you just need initiative and awareness. If you don't mind getting dirty and like physical work and driving you'll like it, it pays well too!"