Environmental Road Maps
Reducing our carbon footprint, protecting the environment and producing sustainable products are all part of our strategy for creating a better world. Fulton Hogan has launched the environmental and sustainability strategic plan (2022 to 2025) for its New Zealand businesses.
The strategic plan is a working document used to focus effort, align priorities and record progress. We have set several objectives and priority project targets such as reducing our CO2 emissions by 2030 and increasing the use of products and materials that have a lower impact on the environment.
Whole-of-life fuel economy and our emissions profile will be factored into all vehicle, plant and machinery procurement decisions. Our vision is for our business to be carbon neutral by 2050.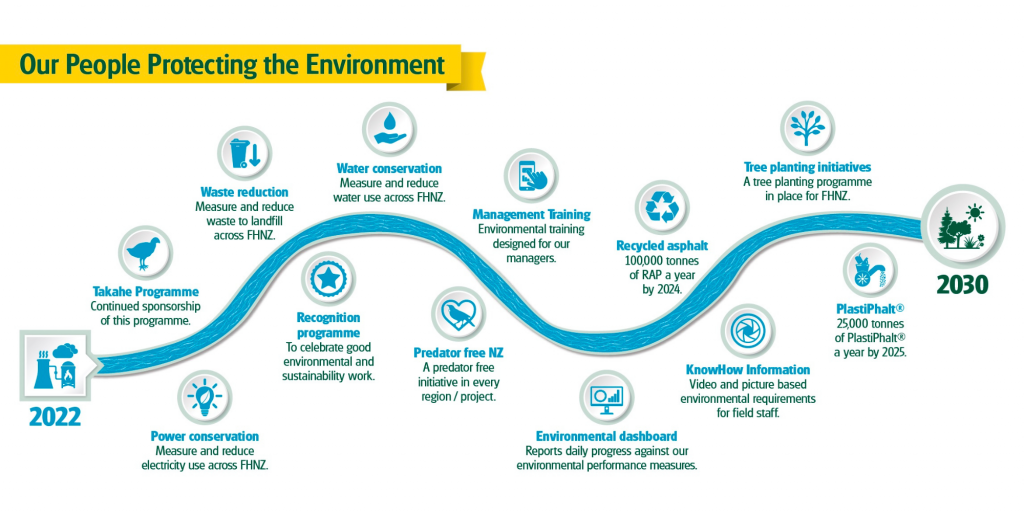 Our aim is for our team to consistently identify, understand, and effectively control environmental risks. We plan to create solutions that reduce any negative impact our industry may have on the environment. We are currently in the process of building an environmental responsibility training programme for our managers. The programme will equip our staff with the latest strategies on how we can operate efficiently and sustainably while still caring for our planet.