Pours nearing completion on Watercare's new $79m reservoir
Stevenson has completed the third of four concrete floor pours for a new 45-million-litre reservoir at Auckland's Redoubt Road reservoir complex.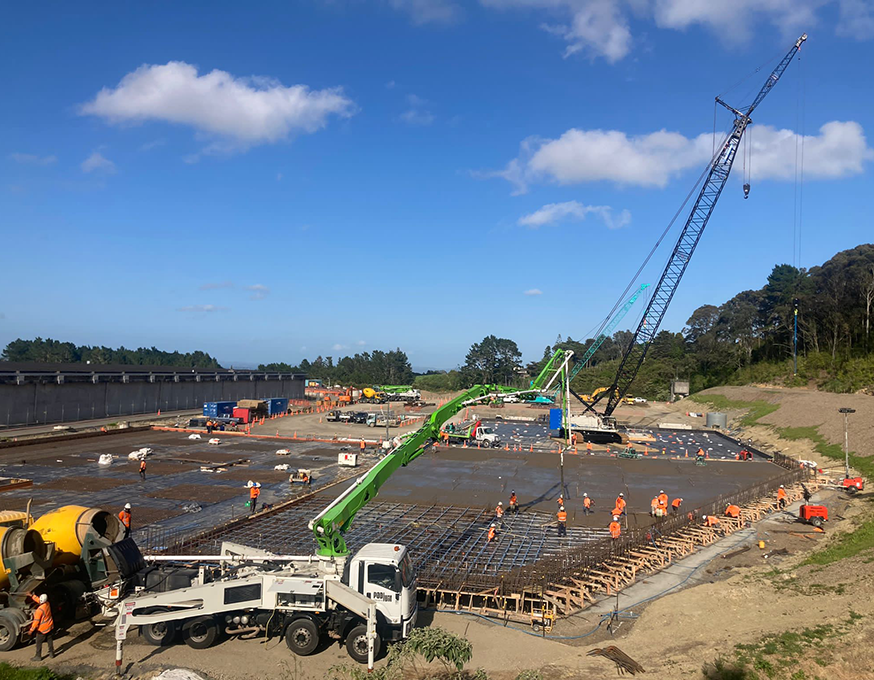 In one of Stevenson's largest-ever pours, in November last year, the team poured over 500 m3 of concrete, representing around 100 trucks, in just one night.
Key account and business development manager Shaun Rippingale and lab technician Bhupinder Singh worked onsite alongside the tech team from 11 pm to 12 pm the following day, checking the slump on every truckload. This first pour laid the foundation for structural work that has been underway since.
"The batchers and the truck drivers did an excellent job delivering a top-quality product. There were very minimal spacings between trucks and consistent concrete slump made for a great delivery."
The majority of building on this project happens during the day while the concrete pours are done at night. Pouring at night ensures a consistent supply, steady curing times and a decrease in defects to the reservoir floor slab.
Watercare's project manager Buena Van Wyk says "To make the pours for the critical infrastructure less disruptive for the community, our plan of attack was to minimise noise as much as possible by installing noise reduction features, scheduling concrete to reduce waiting and idling on site, encouraging the use of RT radio and the strategic positioning of noise barrier shields."
Large concrete structures like the reservoir at Redoubt Road are carbon intensive. Stevenson Concrete added fly ash to the concrete mix which not only reduces Co2 emissions but in the case of water-based cement mixes, increases workability and robustness, reducing cracks that can be caused by shrinkage.